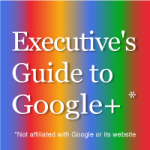 The Executive's Guide to Google+ educates executives about the emerging strategic value of Google's social push as a means to drive intimacy and engagement among their stakeholders—and a potential disruptor and game-changer among well established social networks. Unlike "pureplay" social networks Facebook and LinkedIn, Google has a multidimensional ecosystem of Web services to which its social push will add value, so I am watching it very closely and will share my thoughts here.
The EGSN's point of distinction is a unwavering focus on applying Google+ to business processes. CSRA launched the Executive's Guide to Google+ in Q4 2011 to apply the  methodology of the Executive's Guide to LinkedIn to Google+, so it brings rigor to the practical aspects of applying (relatively) immature technology and behavior to high-value business processes.
Access the Guide to Google+ sections under the Google+ menu in the horizontal navigation bar, or directly from this page. Return here from any section of the Guide to Google+ by clicking its logo. EGSN Posts are my thought leadership. Best of the Web are hand-picked by me; Case Studies are the best examples I can find.
Google+ Best of the Web
More Best of the Web
Google+ Notable Posts
Backlash against Google/Google+, this post shows how to 1) how to disconnect Google+ from Google search results and 2) configure your browser to default to non-Google search engines. Useful, but assumes 2 things that will be untrue for some people: a) Google+ results "pollute" search results in all cases; b) Yahoo/Bing give better search results. Although all of the above could be true in some cases, the devil is in the details. It is surprising that the post didn't mention a much better alternative: info.com, whose algorithm sorts results from all three search engines. Executive's Guide recommends being aware of the ground shifting under search. Don't get caught up in religious wars, and try different things. As we have argued in these pages here, Google+ results will enhance certain kinds of searches and will return inferior results in others. As infoworld says, users can "filter out" Google+ search results on a case-by-case basis, so the watchword is to try different things. Also, get acquainted with info.com, it could add serious value in some use cases/situations. If you really want "quality" in terms of what you're trying to accomplish, Google+ has made it more complicated. C'est la vie, quoi! ;^(
=>
More Notable Posts
Google+ Directory
Ask the Guide lets you can ask us your Google+ questions.
Services outlines how CSRA guides enterprises in using Google+
Google+ Reference
Must-read resources for understanding Google+'s potential: