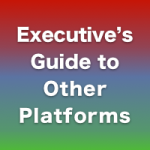 The Executive's Guide to Other Platforms addresses YouTube, Foursquare, Pinterest, Slideshare, Flickr and others.
Since I advise and mentor global firms and brands on using blogs, the EGSN's point of distinction is detailed information that stems from client work as well as my focus on blogs for improving business processes. CSRA launched the Executive's Guide to Blogs in Q4 2013 to apply the  methodology of the Executive's Guide to LinkedIn to blogs.
Access the Guide to Blogs sections under the Blogs menu in the horizontal navigation bar, or directly from this page. Return here from any section of the Guide to Blogs by clicking its logo. EGSN Posts are my thought leadership. Best of the Web are hand-picked by me; Case Studies are the best examples I can find.
Other Platforms Best of the Web
More Best of the Web
Other Platforms Case Studies
#SlideShare #casestudies by customers in hightech media government education...
Step-by-step #slideshare starter guide highlights Buffer's experience + #presentation #makeover
Short descriptions of how Mayo Clinic uses major platforms
=>
More Case Studies
Guide to Other Platforms Directory
Ask the Guide lets you can ask us your questions about platforms that aren't covered in other guides.
Services outlines how CSRA guides enterprises in using other platforms.
Other Platforms Reference
Must-read resources for understanding Other Platforms' potential: