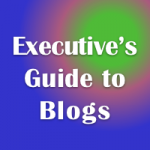 This page assembles the best case studies for blogs I can find of useful and interesting applications of blogs to business. To make this list, a "case study" has to be more in-depth than the majority of the social media examples that often lack detail and business focus.
Get the most out of them by not taking them literally: think a bit more abstractly, and you'll find it easier to apply the ideas to your business. Of course, the challenge is what it has always been: aggregate the audience and deliver value to maintain attention, engagement and results.
Check back often because this page is usually updated several times a week.