CSRA milestones reflects on my first ten years of experiential social media, seen through the eyes of clients I've served. I'll share what I learned about what outcomes we got in each engagement as well as how it happened that I developed and pioneered experiential, which if a repeatable process for developing trust and profit at scale.
If you'd like to watch this post instead, just click the thumbnail button.
Global Investment Bank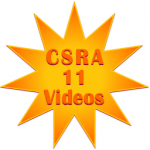 I'm grateful to a global investment bank for being my first client! I worked closely with an internal strategy team for over a year and researched disruptive digital social trends that could affect the bank and its wealth management business. This work was very similar to what I did at PricewaterhouseCoopers' strategy practice because I advised on strategy for a global business dealing with digital disruption.
The Executive's Guides
In 2007, I ended up writing the first "executive's guide" to LinkedIn, by accident. I'd been explaining the value of LinkedIn to […]
The post CSRA Milestones Ten Years of Experiential Social Media appeared first on Christopher S. Rollyson and Associates.
[…]