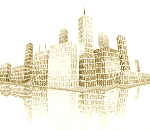 Use Scenarios to Network into Jobs and Contracts reveals a new way to break through when you're looking for new consulting work or employment for yourself, or you're fundraising for your startup or nonprofit. As these pages detail, I've learned that "breaking through the noise" is easy when you play music. You'll learn how to do it here.
Insight from Ethnographic Research

I've conducted ethnographic research of social media since 2006, so I have a window into humanity that few other people do. I've also been pioneering in disruptive tech since the 1990s, so I've had a front row seat to the explosion of information and splintering attention most of my clients talk about. Since the 1980s, I've been very active with networking at events and organizations. So I have a diverse viewpoint. Here are a few things I've learned:
Behavioral economics and cognitive science consistently reveal that people make decisions emotionally, with their gut, although they're usually unaware of this. The intellect wraps the decision in a […]
The post Use Scenarios to Network into Jobs appeared first on Christopher S. Rollyson and Associates.
[…]