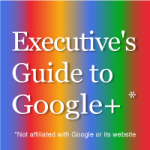 If you have questions about how to use Google+ to create business value for your firm or yourself personally, we invite you to submit them here, and The Guide will answer them. Especially, try questions about:
Creating and managing a Profile, Page or Community that attracts the people you want
Tech glitches with various email addresses
How to invite people so they approve your invitations more often
Questions about Google+ and privacy
How you can search Google+ more easily
How to respond to invitations without offending people
Why you should use Questions and other Google+ applications.. and how
When Google+ doesn't seem to work like I think it should
Dealing with Google+ hacks or spam
How to Ask the Guide
First, search EGSN Google+ posts for the kind of information you need; chances are, there's a post that offers in-depth advice.
If you don't find just what you need, just stroll down and hit the "Post a Comment" link on this page.
Try to help The Guide to help you by asking your question as specifically as possible. Thanks!