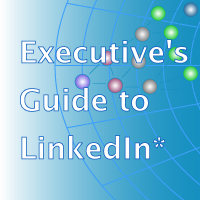 The mission of the Executive's Guide to LinkedIn is to help executives understand the opportunities and threats posed by global digital networks. We help executives to increase their individual security and effectiveness by tapping the LinkedIn network, and we guide them in introducing online networks to their companies and organizations.
Networks are as old as mankind, but online digital networks like LinkedIn have new wrinkles that members need to grasp to be effective. Understanding and mastering the process of relating online is an art in which we coach individual clients and their teams. This weblog will provide extensive educational information.
The Executive's Guide to LinkedIn is a professional service offered by CSRA Inc., and we deliver our expertise to clients in many ways:
Seminars for individual and group learning, given in public and private venues.
Profile Builder Services for individuals, groups and companies enhance your ability to attract the right business prospects
Speaking engagements for conferences, professional groups and corporate meetings
Web 2.0 Ecosystem orientations explain social networks' significance to individuals and enterprises. This can serve as a due diligence effort that benefits involved executives regardless of whether they subsequently choose to extend Web 2.0 to their organizations.
The Social Network Roadmap is a risk-mitigated approach to adopting Web 2.0 and social networks appropriate for CMO, CIO and business unit executive sponsorship
Familiarization tours of LinkedIn, Facebook, MySpace, Orkut, Xing, Second Life, Twitter, YouTube and others. Conducted for management teams, board members, employees and business partners through boardroom presentations, company functions, university gatherings and association meetings. We can also include wikis, blogs, social tagging, RSS, mashups, video, podcasts.
Charters, business cases and measurement metrics for social network and Web 2.0 pilot programs. Design pilots and scaling strategies.
Vendor selection for individuals, groups and enterprises
Strategic/tactical plans and adoption strategies for LinkedIn, others.
Integration plans We have line management experience and show how these new tools and relationships can integrate with your existing processes. The "new how" with the "old how." Opportunities and threats.
Mentoring programs for teams to apply new technology to existing corporate competencies such as: business development, analyst/public relations, marketing, innovation/product development, research, partner/channel development and human resources on using social networks.
Strategic applications such as leveraging social networks to drive or support globalization
For more information on our services, we invite you to visit the Executive's Guide to LinkedIn website.