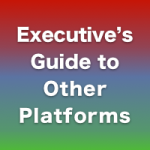 If you have questions about how to use platforms not covered under other Executive's Guides to create business value for your firm or yourself personally, I invite you to submit them here, and The Guide will answer them. Especially, try questions about:
Is Pinterest worthy of all the hype?
How is geosocial like mobile social?
Should we bother with Foursquare? What's the business case?
Why did Facebook buy Tumblr?
What's Quora?
What are other hot emerging platforms?
How to Ask the Guide
First, search EGSN posts for the kind of information you need; chances are, there's a post that offers in-depth advice.
If you don't find just what you need, just stroll down and hit the "Post a Comment" link on this page.
Try to help The Guide to help you by asking your question as specifically as possible. Thanks!