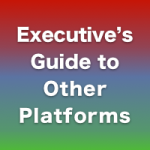 The Executive's Guide to Other Platforms is offered by CSRA, Inc., which specializes in helping leaders succeed with applying social technologies and behaviors to their businesses. As management consultants specializing in disruptive technology, CSRA advises global enterprises, government agencies and start-ups on:
Strategy: new social platforms emerge and die constantly, so it's quite challenging to know how to make investments. Strategy engagements identify, as a function of clients' business strategies, which platforms would be relevant—when and how. Few executives understand other platforms' potential because they consider them fringey and frivolous. CSRA helps you to assess what your firm could do with platforms, what examples are useful, business cases, whom to involve, whom you can engage. We work with all types of digital social applications, so we often advise on picking the right platforms.
Implementation: CSRA uses an agile services framework called the Social Network Roadmap(SM). We create cascading pilots to enable your team or partners to learn quickly, so you build the competency necessary to drive a scalable program; our practice is built around mentoring and skills transfer.
Our methodology enables you to adopt quickly because risk management is integrated into every step, so our clients tend to make fewer mistakes than their competitors. We have over 25 years of experience advising executives on adopting disruptive technology.
Questions Often Asked by Our Clients
How can we find the time to interact via all these platforms? Our people are scrapped for time already.
Why should we consider another content vehicle?
Should we pay people to do this for us? If so, what should we have them do? Would that be okay?
How do these platforms affect search results, what's the opportunity?
Shouldn't we just pay our agency to deal with this? Why or why not?
Isn't this silly and a waste of time? Could we really make money from this?
These examples are illustrative, not exhaustive. Please contact me to learn more.