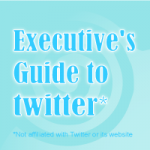 If you have questions about how to use Twitter to create business value for your firm or yourself personally, we invite you to submit them here, and The Guide will answer them. Especially, try questions about:
Creating and managing a Twitter following that helps you to inform yourself about breaking trends, generates the conversations you want, or both
How to create a Twitter team
Managing multiple accounts
Promotions, fundraising and job search on Twitter
How to invite people so they approve your invitations more often
Differences between different kinds of tweets
Questions about Twitter and privacy
Incredible Twitter tools
When Twitter doesn't seem to work like I think it should
Dealing with Twitter hacks or spam
How to Ask the Guide
First, search EGSN Twitter posts for the kind of information you need; chances are, there's a post that offers in-depth advice.
If you don't find just what you need, just stroll down and hit the "Post a Comment" link on this page.
Try to help The Guide to help you by asking your question as specifically as possible. Thanks!