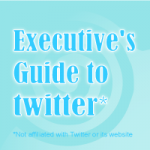 Our picks for useful and interesting applications of Twitter to business. Get the most out of them by not taking them literally. For example, it would be easy for B2B executives to scoff at the quaint example of a specialist tea boutique tweeting its blends of the day–until they realize that, with a bit of imagination, the same concept is application to B2B, whether bulldozer aftermarket parts, professional services or medical equipment.
Of course, the challenge is what it has always been: aggregate the audience and deliver value to maintain attention, engagement and results.
Check back often because this page is updated several times a week.